| | |
| --- | --- |
| | Chapleau and Missanabie Area Fishing Resorts |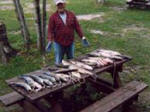 Island View Camp
Discover Dog Lake at Island View Camp. With approximately 13,000 square miles of water to explore, fishermen, women and groups will enjoy reeling in walleye, brook trout, smallmouth bass and more. Both cabin and campground accommodation is available, as well as a variety of amenities.
Chapleau Lodge


A drive in resort on 12 mile long Borden Lake. We are north of the arctic watershed and have water depths to 200 feet and 80 islands, which hold the big trophy fish. Our lake and the neighboring lakes offer trophy walleye, pike, lake trout, brook trout and bass fishing at it's best. Our location is in the far north with 1000's of miles of ATV trails that start at Sault Ste Marie and go right past our driveway for those who bring or ride there bikes to the lodge. ATV overnights are welcome.

4 Seasons Guiding & Cabins
Big Pine Lake is a remote lake with no settlement so it receives very little fishing pressure. Big Pine Lake is a labyrinth of bays and islands with many diverse structures that hold good populations of fish and allow them to proliferate in great numbers. As a result, our guests enjoy outstanding Walleye Fishing with good eating sizes right up to unusually large trophies with some over 10 pounds. We also have perfect structure for Northern Pike. Pike are common in the 3 to 6-pound range but guests who specifically fish for Pike usually pick up a couple over 40 inches with many in the high 40s. There are also other lakes and streams near the camp where you can get easy access to outstanding Smallmouth Bass, Brook Trout and Lake Trout fishing. le "A" frame cottage located on the shore of Sydney Creek. Two bedrooms with 1 Queen Bed, 1 Double, a pull out sofa, and a woodstove.

Kanipahow Wilderness Resort
Kanipahow Wilderness Resort is located on Chapleau Lake out side of Chapleau Ontario Canada and offers excellent fishing for Pickerel/Walleye, Northern Pike and Jumbo Perch. We offer good clean fully equipped comfortable cottages located right on the waters edge with your own private docking. There are also drive-to streams in the area with excellent Brook Trout fishing and drive-to lakes with Lake Trout fishing right from our Resort location. We also offer fall Black Bear, Moose and world class Grouse Hunting. The area around Chapleau Ontario is rated for some of Canada's best fishing and hunting and ATVing.
Northern Walleye Lodge
Our boat-in camp is family-owned and operated with quality customer service, a family atmosphere, and warm hospitality that will bring you back year after year. Our camp features rustic log cabins, with full amenities, in a remote wilderness setting. Enjoy satellite TV, a pool table, darts, games, and books. Visit the lodge store for licenses, necessities, and souvenirs. In the dining room, get spoiled with fine home-cooked meals. Simply relax by the fire while sharing your fishing memories (or tall tales). Unpopulated acres of outstanding fishing awaits you.
Moosehorn Lodge
Enjoy the wilderness of Northern Ontario and everything that it has to offer. Finally a place that when night falls there is nothing but darkness and you can see every star in the sky. Treat yourself to the luxury of first class accommodations & unlimited fishing opportunities on the many nearby lakes. For the fisherman, we offer walleye, northern pike, speckled trout, whitefish and some bass fishing. For the hunter, we have a world class fall black bear hunt and moose hunt. For the nature lover, we have first class accommodations, loons & beaver on the lake, birds, squirrels and chipmunks out your door.

Northern Wilderness Cottages
After you've settled into your cottage, you can set out on Dog Lake to enjoy the breathtaking scenery or try your luck at some Northern Ontario fishing for Walleye, Lake Trout, Northern Pike, Perch, Whitefish, Smallmouth Bass and Burbot. With a suface area of over 13,000 acres, Dog Lake has more than enough spots to catch your dinner or maybe find that trophy fish you've always dreamed about.

Red Pine Lodge
Tucked beneath a hill covered with red pine trees is the spacious ranch style building of "Red Pine Lodge". The lodge has a pleasant rustic lounge, a large dining-room and three modern bedrooms. This is an ideal family vacation centre. Here we have lovely white sandy beaches and modern cottages, completely furnished for housekeeping, suitable for 2 - 10 persons. We also offer American Plan with delicious home-cooked meals served family style. Shore lunches are a must.
Back to Main Page | Back to Fishing Resorts