Ear Falls and Perrault Falls
Area Fishing Resorts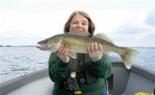 Lac Seul Evergreen Lodge
Lac Seul's Evergreen Lodge invites you to fish the open waters, the quiet bays, and the beautiful island shores of Lac Seul. Enjoy the taste of freshly caught walleye, cooked on aLac Seul's Evergreen Lodge open fire at one of our famous shore lunches. Relax with friends and family in cabins nestled along a quiet cove. Share a fishin' tale with your buddies. Up here, the tale will likely be true. Big fish, sunsets and fish fries are just part of the magic that creates a trip of a lifetime for our guests visiting the Great Canadian North Country.
Rainbow Point Lodge
Rainbow Point Lodge is located on beautiful Perrault Lake in the heart of Northern Ontario, Canada. This fishing & hunting lodge is not just a business to us. The Lodge has also been our home for 25 years. Come experience the friendly difference that keeps our guests returning for their Canadian fishing & hunting trips year after year. If you're looking for an all round quality Canadian fishing lake, take a closer look at Perrault Lake. Ontario Walleye, Northern, Smallmouth Bass, Musky, Whitefish & Jumbo Perch fishing are all right here! Whether you want to go for Smallmouth Bass, Pike or Perch within site of our Lodge docks, or venture farther into the lake to a favorite walleye or muskie hot spot, there are plenty of great fishing holes to check out. There's nothing better than a tasty Ontario shore lunch or a fresh fish supper after a day on the lake!
Back to Main Page | Back to Fishing Resorts

Red Lake Fishing | Total Fly Fishing Guide | Ontario Walleye Fishingr