Jellicoe, Geraldton, Hearst and
Hornepayne Area Fishing Resorts
Missinabie Outfitters For you fishing enthusiasts, we have both Housekeeping and American Plan fishing packages available at our main base on Shallow Lake. We encourage everyone to release the larger

fish and eat some of the smaller fish they catch. Nothing beats fresh caught fish! American Plan fishing packages include accommodations, boats, motors, personal guiding to my favourite World-Class Fishing Holes on the Missinaibi River, and meals prepared by chef Denyse. We also offer one day guided fishing packages on remote sections of the Missinaibi River for anglers that want to fish for only one or two days. The Missinaibi River around Mattice contains Walleye, Pike, Smallmouth Bass, Fallfish (similar to a whitefish) and occasionally Brook Trout.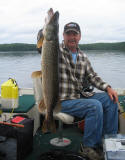 Wild Goose Lake Resort
Wild Goose Lake is approximately 14 miles long with clear, clean waters which give up many good walleye, northern pike, perch, and whitefish each year. You'll enjoy the quiet, peaceful fishing with little competition for the better fishing spots. There are numerous other remote lakes I the area for additional fishing adventures. Many of these lakes are only a short distance away and easy to get to. Here at Wild Goose Lake Resort we have many hidden treasures. Like a 7 year old boy catching a 22" northern pike off our dock the first day he is here on his second cast, yelling, "Dad, Dad what do I do with it now?" Did we mention our boats on the outlakes? Have you ever fished for Splake, Blue walleye, trout or the mighty sturgeon? We have them all within an hour drive of our home base.
Back to Main Page | Back to Fishing Resorts