Manitoulin Island & Area
Georgian Bay, Kilarney
Espanola Fishing Resorts
Charlton Lake Camp

Are you in need of a fishing lodge, a place to get away and throw out the hook? Do you want to spend some time away in the breathtaking forests of Canada? Do you want to go fishing, trekking, swimming. Do you want to reconnect with nature, encapsulated by the silent atmosphere of the woods? Charlton Lake Camp is a secret jewel in the Canadian outdoors. We have wonderful accommodations, we are fit with excellent fishing boats, we have a store where you can buy your bait and tackle, in short, everything you need for a great fishing trip is found in Charlton Lake Camp.
River Haven Resort


It's the biggest reason people come to River Haven Resort. ( Well, that and relaxing and enjoying themselves! ) The area is known for its Pickerel (Walleye) and Northern Pike, but there's no shortage of Muskie, Small & Large Mouth Bass, perch and other pan fish. The fishing is excellent throughout the season ( so stop asking us "how's the fishing?" ). The best time for trophy fishing in our area of Georgian Bay is the spring and fall, as this is the most productive time of the year for Walleye and Pike.

Lang Lake Resort
Our Chain of 7 interconnecting lakes stretches for 18 miles, and boasts over 100 miles of shoreline, with numerous shoals and weedbeds. Fish our main lake system for lake trout, walleye, northern pike smallmouth and largemouth bass. For the more adventurous fisherman our resort offers quiet back lake retreats where the fish never seem to stop biting. We offer fishing guides as well.
Camp Dore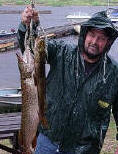 There are many game fish located in the Key River - Georgian Bay area, including northern pike, walleye, bass and several species of pan fish. A fish cleaning house is located at the docks for your convenience. Camp Doré offers boat launching facilities, summer dockage, winter storage and ample parking at a nominal charge for those who wish to travel or camp on the Key River or in the Georgian Bay area.
Back to Main Page | Back to Fishing Resorts