Minaki, Kenora, Lake of the Woods and Sioux Narrows
Area Fishing Resorts

Big North Lodge
Fishing at Big North Lodge starts right from our docks. Throughout the season, from May to October, fishing is excellent for walleye, Northern Pike, Bass and there is the ever elusive Muskie for the experienced, patient fisherman. Five fishing lakes, Gun Lake, Little Sand Lake, Big Sand Lake, Rough Rock Lake and Pistol Lake, on the Winnipeg River System can be reached by boat without portaging. Our guides are experienced and well qualified to make your fishing trip a memorable success. Who can forget the famous shore lunches, expertly prepared by your guide. A feast of fresh walleye with all the trimmings is well worth telling your friends about.

Camp Waterfall
Why have different generations of fishermen returned to Camp Waterfall? During May and June our guests are successful in catching limits of walleye in Lake of the Woods. Blindfold Lake produces great northern and bass action as well as large numbers of crappie. Rushing River flows into Blindfold Lake 1/4 mile below the camp. Blindfold has miles of shoreline untouched by humans. It provides many inlets, bays and islands for good fishing structure. Camp Waterfall. A short marine railway provides access to Lake of the Woods and endless fishing possibilities, including muskie.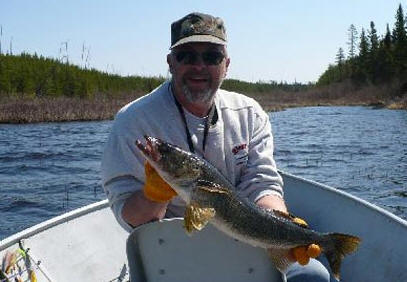 Halley's Camps
This is our invitation to you to experience a truly fantastic Canadian fishing trip - whether you choose one of our all inclusive lodges, our housekeeping camp, or one of our fly in outpost locations, you will be sure to experience the fishing vacation that makes our guests return, year after year, generation after generation. We are proud of our family's commitment to the tourism industry. You can rest assured that our name is your guarantee. If your fishing passion is a trophy northern pike or musky, a panful of sizzling walleyes for shore lunch, or to catch so many smallmouth bass in one day that your reel threatens to overheat, you can find what you want in a Canada fishing trip at one of our Ontario fishing vacation locations!

Harris Hill Resort
Experienced Fishing Guide Service and shore lunches are available on a request basis at prevailing prices. This can be part of a week long guided fishing vacation, or requested for the first day or two until you get to know the lake a bit better. Fishing, boating, scenery and beautiful sunsets all go together at Harris Hill Resort on beautiful Lake of the Woods.: Enjoy life to the fullest while on vacation and everyday of your life. Fishing, boating, scenery and beautiful sunsets all go together at Harris Hill Resort on beautiful Lake of the Woods. For your fishing vacation you will be pleased with our great service and hospitality, our comfortable modern accommodations and our quality vacation packages, all at affordable prices.

Shoal Lake Lodge
Imagine the fishing... Shoal Lake is the ultimate sport fishing destination for those in search of a truly world class Northern Pike, Smallmouth and Largemouth Bass fishing adventure. Shoal Lake Lodge is the only lodge on Shoal Lake and is situated in the central portion of the lake. An unspoiled 40 acre island gateway and unequalled body of water. Well protected, it offers countless miles of prime fishing shoreline and many shoals in its cool crystal clear water.

Sydney Lake Lodge
Fish Ontario's Trophy Waters at Sydney Lake Lodge where fishing in Canada is as it should be. Fly-in on a float plane 46 miles north of Minaki Ontario and experience fishing in the Canadian wilderness as it should be on two remote lakes of exclusive fishing waters in Woodland Caribou Park. Here you will catch fish - itís a matter of how many and how big. (Bring a golf score counter and measuring tape). Come on up and experience what its like to catch a Trophy Walleye, Northern Pike or Lake Trout. Sydney Lake Lodge offers comfortable pine paneled cabins with full kitchens for you to relax on your trip. When you hit the water - 16 foot Lund Boats with floors and swivel seats and 15 or 20 hp Honda four stroke motors take you to the action. Sydney and Kilburn Lakes offer varied structure as the lakes are carved out of granite by glaciers with over 200 miles of shoreline and 120 islands.
Totem Resorts
Experience the rustic charm and the luxury of Totem Resorts. With such breathtaking surroundings, each of our 5 star properties is set against a backdrop of sparkling water, pine trees and blue sky. Not to mention we are located on beautiful Lake of the Woods, Ontario Canada - One of the best freshwater fishing destinations in the world! It all comes down to service, quality and excellence, its Totem tradition! We want to create memories that will last you a lifetime... For something different, try the newest addition to Totem Resorts - French Portage Outpost. This remote outpost camp is located 20 minutes south of Wiley Point Lodge but offers a true northern wilderness experience. Fewer services but all the comforts of home!

Whitefish Bay Camp
This is one of Canadaís Premiere Fishing Camps located just 75 miles from the USA/CA Border and offering multi-species fishing for Muskie, Northern Pike, Lake Trout, Bass, Walleye, Whitefish and Crappie and hunting for Whitetail Deer, Black Bear, Moose and Duck in a semi-remote, access by boat, wilderness setting. Recreation, Beauty, Hospitality and Adventure In The Heart of Lake-Of-The-Woods, Ontario, Canada
Back to Main Page | Back to Fishing Resorts

Lake of the Woods Fishing | Michigan Angler | Ontario Walleye Fishingr