Red Lake Area
Fishing Resorts
Anglers Kingdom
Angler's Kingdom is first and foremost a sport fishing camp. Our guests catching the fish of there dreams is our number one priority. Trophy pike and Walleye is what we're all about. Anglerís Kingdom is located beyond the highways 30 miles north of the town of Red Lake in Northwestern Ontario. Nestled among the trees on the shores of Pine Island overlooking 1,000 feet of beautiful sand beach. Within a few minutes of Nungesser lakes most prolific trophy Pike and Walleye waters, your Wilderness Kingdom awaits.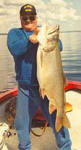 Booi's Fly-in Lodge & Outposts
Fly 15 minutes north to Boois secluded modern island where 91% of those who come to fish return. Catch & release - all from 1 lake - titanic trophy pike, 100ís of fat juicy walleye and lake trout too big for your net. Take advantage of free fish-filled guided days with complimentary delicious shore lunches. At the end of your fishing day, relax in your 2 story luxury chalet on the waterís edge. Light the fireplace and curl up on your couch, or step out on one of your 2 decks and take in a sunset or northern light show. Please join 3rd generation lodge owners/5th generation Canadian hosts Jim and Tracy Booi at our unique piece of Northern paradise created just for you.

Bow Narrows Camp
Trophy northern pike and walleye wait at your doorstep at Bow Narrows Camp, a boat-in Canadian fishing camp on fabled Red Lake in Northern Ontario. American Plan and Housekeeping Plan Packages include everything. We even clean your fish! Twenty miles from the nearest highway, Bow Narrows Camp is deep in the Canadian wilderness. It's like a fly-in fishing camp but you are taken there by a large, fast boat instead of a floatplane.

Chimo Lodge and Outposts
When planning a vacation, there are many things to consider -- are you looking for comfort in the wilderness -- a remote lake that offers a variety of good fishing -- a lake that is pollution-free -- a lake that is not overcrowded -- a country that abounds with wildlife and scenery -- a camp that offers "True Northern Hospitality". Then we suggest to you "Chimo Lodge" on Roderick Lake which offers you all of these and much more.¬ Our safe 14 ft. Boats and new motors will ensure your safe travels around the lake which means more time for fishing and enjoying the rustic beauty that surrounds you.

Uchi lake Lodge
Ever dream of finding a secret lake where you can catch 40 to 60 maybe even a 100 walleye from one spot without moving your boat? That's what a Canadian fly-in trip to Uchi Lake is all about! Lots of fat walleye and big northern pike too, up to 25 pounds! From the moment you arrive in Sioux Lookout, Judy and one of her staff will be there to greet you at the dock and load your gear on the floatplane. The Uchi flight will be the first one out, usually before 7 a.m., so you won't miss any fishing your first day. Once on the plane, enjoy the 40-minute flight in a DHC3T Turbine Otter or 1952 DHC-2 Beaver as miles of unspoiled wilderness pass beneath you.
Back to Main Page | Back to Fishing Resorts

Red Lake Fishing | Complete Fly Fishing Guide | Ontario Angler