Lake Temagami & Area
Lady Evelyn Lake
Fishing Resorts
Lady Evelyn Lake

Red Pine Wilderness Lodge
This is one of the last, large lakes in Northeastern Ontario that is still classified as being remote, mainly due to the dam at the north end and absolutely NO ROAD ACCESS. It covers an area roughly 22,000 acres in size when added to Sucker Gut (funny name, beautiful lake) and Willow Island Lakes. Upwards of 450 miles of wilderness shoreline for walleye to cruise, bass to nest and northern pike to ambush. Red Pine is located on the Northeast arm of the lake featuring many sheltered fishing areas and water depths in the 15' to 40' range. No need to hunt for trophies in deep water here. In fact, as large as Lady Evelyn Lake is, most guests stay within a three mile radius of Red Pine Island for most of their fishing excursions!
Garden Island Lodge
Lady Evelyn Lake is stuffed with hard fighting Northern Pike and acrobatic Smallmouth Bass. There are also well-cleared portages where you can easily reach lakes with Lake Trout as well as streams with Brook Trout. Garden Island Lodge's true claim-to-fame is the unusually high population of Giant Trophy Walleye. You can catch lots of good eating size Walleyes for shore lunch or breakfast but your focus should be set on size. There is a good chance that you may catch the biggest Walleye of your life. Lady Evelyn Lake is one of the top Walleye Lakes in Canada for a mix of numbers and trophy size Walleye. No other lake in Ontario consistently produces Walleyes over 30 inches. We even had a guest catch a 36-inch Walleye that weighed an astonishing 18.5 pounds. Lady Evely Lake is a Walleye Fisherperson's dream come true.

Ellen Island Camp
Lady Evelyn Lake is one of the few remote lakes left in Northeastern Ontario. Thanks to the Mattawapika Dam and the fact that there is absolutely no road access to the lake, our waters remain unspoiled. With over 400 miles of shoreline, thereís never any trouble finding a spot that fits your bill, Trout Fishinghowever the majority of our guests do their catching within a mile or two of their cottage. Only 40 minutes from camp (30 of them walking) is Angler Lake (Catch & Release Only). Producing prize winning Bass in quantities not even imaginable to most, youíll find yourselves reeling in upwards of a hundred (and thatís on a bad day). If thatís not enough excitement for you, take a walk into the Trout Lakes or Falls
Lake Temagami and Area

Lake Herridge Lodge
Lake Herridge Lodge, a fishing and hunting camp set in the scenic tranquility of the Temagami Wilderness Forest. Lake Herridge Lodge and the Temagami area is a four-season paradise. Look no further than Lake Herridge Lodge for the perfect getaway. Aside from the main lake, Herridge Lake, our fishing opportunities extend to 5 remote back lakes which offer a multitude of fishing options. Remote back lakes which can be reached by a short portage; each is equipped with boats and motors, so all you bring is your personal gear
Northern Adventure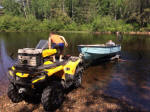 Come for the day or stay awhile; with Northern Adventures, youíll be able to get your fill of nature, no matter how you choose. Lodge, camp or set up at a remote outpost. For summer and winter alike, youíll get the best of northern Ontario fishing with us.

Andorra Lodge
Anglers in search of the "big one" should look no further than Andorra Lodge. Net Lake, covering a length of ten-kilometres, boasts a multitude of species that will keep any fisherman casting with sheer contentment all day long. Wrestle with the tasty walleye (avg. 3lbs.), do battle with northern pike (avg. 6-8lbs.), troll for lake trout (avg. 4-8lbs.) or topwater for the feisty smallmouth bass (avg. 3-6lbs.) We also offer whitefish (avg. 2-3lbs.) and panfish - species that are always willing to play tug-of-war with your line. Since we are the only lodge on Net Lake, the fish are under-pressured and the waterways are free of boat congestion - two variables that make for fast-paced and exciting angling.
Back to Main Page | Back to Fishing Resorts